CONTRACT FOR THE MID-LIFE UGRADE (MLU) OF THE HORIZON CLASS FRIGATES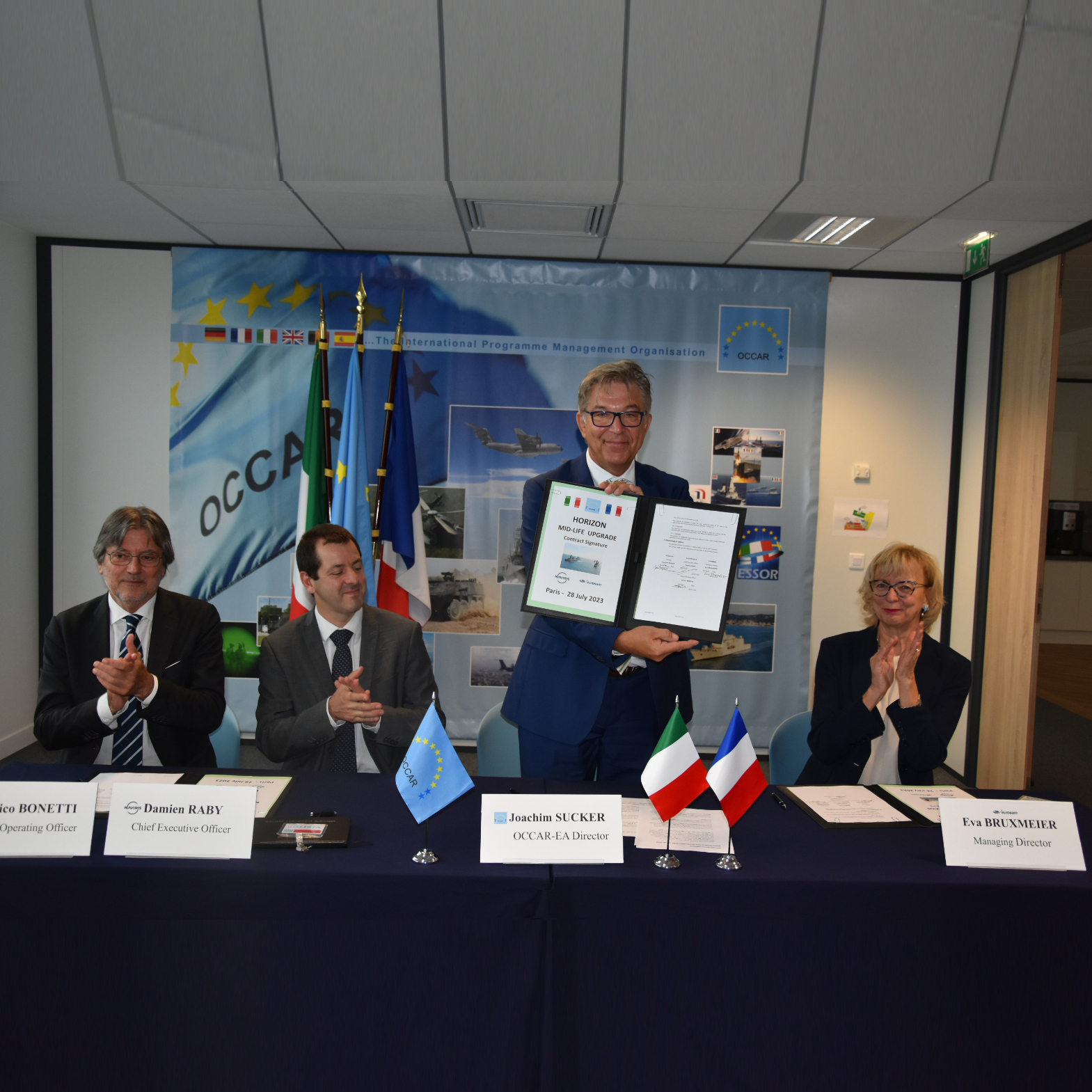 On the 28th July 2023, OCCAR (Organisation for Joint Armament Cooperation) has awarded Naviris and eurosam a contract for the Mid-Life Upgrade (MLU) of the French and Italian Horizon frigates. The two co-contractors, Naviris and eurosam, will work in close relationship with their shareholders, Fincantieri and Naval Group for the frigate, MBDA Italia, MBDA France and Thales for the new generation of Principal Anti-Air Missile System & Long-Range Radar (PAAMS & LRR).
The value of the contract for Naviris and eurosam is euro 1.5 billion. More in detail, in the coming days Naviris will finalize subcontracts, including the one with Fincantieri, which will have a value of 211 million euros and constitutes a major related party transaction defined in compliance with the relevant applicable regulations.
With this upgrade, Horizon class frigates will receive a state-of-the-art modernization of the entire vessel and the enhancement of their anti-warfare capabilities. New weapon systems and associated Command and Control, and electronic warfare suites will provide highest capabilities and performances against the most modern threats. Regarding anti-air warfare, the new generation of PAAMS & LRR is a very significant upgrade and the system will be able to defeat the threats of the decade to come as missiles (hypersonic, ballistic, supersonic sea-skimmer, high velocity cruise), UAVs and highly maneuvering aircrafts, in a saturation attack scenario.
Damien Raby, Naviris' CEO and Enrico Bonetti, Naviris' COO declared: "We are very proud of today's achievement; the contract signed today is the result of a route, jointly walked with our partner eurosam and our Customers: OCCAR, which we sincerely thank for the excellent work done, Directorate of Naval Armaments of the Secretariat General of Defence / National Armaments Directorate and French Armament General Directorate (DGA), started with the award of the feasibility studies which will make even more solid the execution of the programme. This contract is a fundamental step for NAVIRIS in demonstrating its capability to execute a multinational programme and it further reinforces the role of the joint venture as center of gravity in the cooperation among Fincantieri and Naval Group, also with the partnership of Leonardo and SIGEN (ELT and Thales)".
Eva Bruxmeier, Managing Director of eurosam stated: "PAAMS & LRR, unique System deployed on the four French and Italian frigates, has been successfully engaged all over the world for more than 15 years in synergies with PAAMS & LRR – UK variant deployed on the six Type-45 destroyers. This new generation of PAAMS & LRR for the frigates, developed and produced by eurosam through MBDA Italia, MBDA France and Thales and integrated jointly with Naviris on the frigates, relies on an enhanced missile (ASTER Block 1 NT), an upgraded launcher, two new AESA radars (Kronos Grand Naval from Leonardo and SMART-L MM/N from Thales) and a new open software architecture command and control system".
The Horizon frigates were originally built between 2000 and 2010 as part of a joint programme between Fincantieri and Naval Group, providing the Italian and French navies with innovative frigates with anti-air capabilities. The PAAMS & LRR system was originally developed and produced, under eurosam responsibility, for the four Horizon class frigates.
Main characteristics of the four Horizon frigates
Length / beam overall:            153 m / 20.3 m
Displacement / full load:         6,500 tons / 7,300 tons
Accommodation                       210 (complement of 190 + 20 passengers)
Range:                                        7,000 nm at 18 knots
Maximum speed:                      29 knots
The type is designed for a range of missions, including high-intensity operations, all with reduced crewing. Horizon frigates are front-line fighting ships with one highly specialized mission: anti-air warfare, also known as Air Defense. The ships' chief capabilities are thus airspace control over areas of operations, Air Defense command and control and anti-air cover for carrier groups and convoys. Horizon frigates provide protection against high-intensity threats and attacks by anti-ship missiles. They also contribute to air/sea control during military operations by providing air Defense command and control for allied forces. They can also participate in public service missions.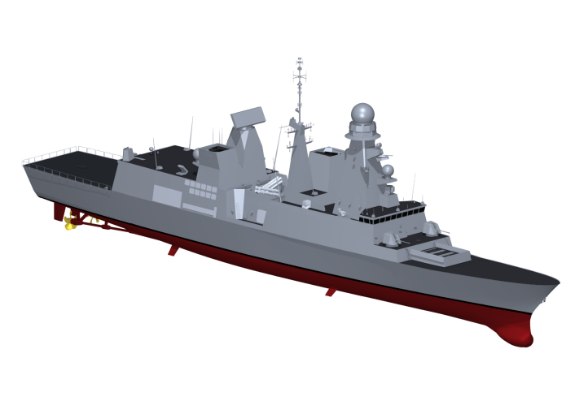 ABOUT NAVIRIS
Naviris is a 50/50 owned joint venture by Fincantieri and Naval Group, officially launched in January 2020. With this alliance bringing new opportunities to the surface ship market, Fincantieri and Naval Group have cemented their joint desire to build a future of excellence for the shipbuilding industry and navies. The two European leaders with complementary offers, supported by a large ecosystem, came together to better serve the world's navies and mutually increase their competitive edge. They are materialising their shared worldwide ambition: the alliance is based on a mutual understanding of the challenges and realities of naval Defense in the world of today. Naviris is dedicated to opening the doors to the international markets of tomorrow.
Naviris at the heart of European Defense
Naviris' mission includes the coordination of the European Consortium of Industries established for development of the European Patrol Corvette. In July 2022, the European Commission selected the proposal submitted by the consortium led together with Fincantieri, Naval Group and Navantia for the 'Modular and Multirole Patrol Corvette' tender. The objective of the consortium's proposal is to maximize synergies and collaboration among European shipyards. By jointly developing a new ship, the EPC, the companies aim to ensure European sovereignty in the field of second-line vessels. Naviris paves the way for the consolidation of European naval Defense in response to increasing pressure from global competitors.
Naviris also signed a four-year research and development contract with OCCAR in June 2020 for joint research activities. As prime contractor, Naviris coordinates the technical activities managed by Fincantieri and Naval Group and holds the intellectual property of all research results.
ABOUT EUROSAM
eurosam was established in June 1989 as a joint venture of MBDA Italia, MBDA France and Thales, European leaders in missiles, systems and radars, endowing it with major expertise in terms of solutions for air defence. eurosam is the industrial prime contractor and system design authority for the development, production, marketing, sales and in-service support of a range of medium and long range naval and ground-launched air-defence missile systems also known as Future Surface-to-Air Family of ASTER missile systems. These systems were developed under contract from the French and Italian Governments, who in the late 1980s had come to similar conclusions as to their air-defence operational requirements. This cooperation, enlarged to the UK in 1996, has experienced export successes, both in naval and land configurations.